It would be an honor and a privilege to help you with your Spokane House Plans
CUSTOM HOME DESIGN         HOUSE REMODEL PLANS
ADDITION PLANS             LAKE HOME PLANS
GARAGE PLANS      SHOP PLANS
3D VISUALIZATION   SPOKANE HOUSE PLAN
Hello, my name is Craig Swanson, draftsman and craftsman
That is me above, snap chalking out interior wall lines on a home I recently designed and drafted thIS SPOKANE house plan for and then framed with my son and an old friend while i general contracted the house with my wife elaine. ( it is a good way to make a living )
EXPERIENCE MATTERS, I BELIEVE
What sets me apart from other house plan drafting companies in Spokane is hands-on experience. I have framed hundreds of houses in all kinds of weather. My crews have built as many as 85 houses in one year doing all the framing, painting, cement flatwork, cabinet installation, deck building, and finish carpentry under my tutelage and supervision.
As a young boy, I went to work on my father's foundation crew. Later I went to work for my mother when she began building homes in 1972. Through the years I learned all phases of carpentry and became a home builder myself. Eventually, I learned to draft blueprints in Spokane.
Each year my wife and I build a few custom homes or major remodel projects, preferably one at a time. I divide my time working with my crew in the morning for a few hours and drafting in my office in the rest of the day. This makes me a resource of information on all aspects of your upcoming project and I can provide my list of suppliers and sub-contractors that I have used for years.
Like my mom, who is now in her 80's and still building homes in Spokane, I will be around long after your plans are completed, available to answer any questions you might have during the course of your building project.
House Plans, addition plans, Shop plans, adu plans…
I drafted my first Spokane house plan many years ago. Actually, I do much more than just draft house plans for houses to be built in Spokane. If you have a project in mind, any building project, then you need a set of plans whether it be custom home plans, addition plans, shop plans, tool shed plans or deck plans. I draft plans for all these, and they are all that you need to get estimates, permits and the thing built. And you do not have to live or plan to build in Spokane given our wonderful worldwide web which has enabled me to work with clients living in other parts of the country whom I never had the privilege to meet in person.
Meeting Info: The meeting can be longer than the 15 minute choice . ( It's the only option in the free version of the Calendy software.)
Please schedule meetings after 1 pm if possible.
Looking forward to meeting you!
Spokane House Plans: Drafting Process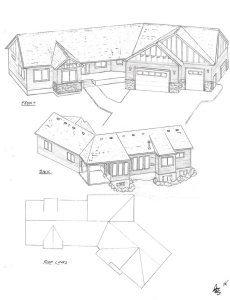 Rob and Amy Stone had found a lot at Shelly Lake in the Spokane Valley that they wanted to build a custom home on. After scouring the internet, they found a few plans that were close but not quite all that they were looking for and so Rob found me to help them out.
Obviously Rob is talented and he is involved in residential construction and so he came up with some great sketches. In addition to this rendering he provided me with a floor plan that was based on something he had found on the internet. I took these and began building a 3-d model in Sketchup. Sending him several videos along the way to get his feedback.
Like most of my clients, Rob was surprised by how many decisions he had to make during the designing phase of the Spokane house plan drafting process. By showing him the 3d model I was building through videos that I make of my screen while I am talking and explaining, he was able to visualize what I was discussing and then give me the feedback I needed to move forward and create exactly what they had in mind.
Craig designed my home from a sketched out drawing I gave him. His understanding of the building process and great visualization of what I was requesting transformed my dreams into our wonderful home. His video presentation in 3D really helps to walk you through your home and get a feel for the rooms. I would recommend Craig to anyone building a home, Why pay $ for a pre-designed plan when for nearly the same price you can build what you want?
"Great company to work with they designed both my new house and airplane hanger; very responsive and easy to work with. Definitely worth every penny."

Cecelio Rodriguez
"Craig is great to work with, he makes it easy since we can do most of the home design through email. He put on paper exactly what we wanted and gave good insight on ways to construct. I would recommend him to anyone that would like to get an affordable custom home plan. I can't wait to see the finished product!"
Tiffany Maple
Craig
Laura and I really enjoyed working with you on the design of our home. You kept us involved in the process so when it was completed it was exactly as we wanted. Your communication and f0llow through was so appreciated. We would recommend you and your process highly. Thanks for completing it on time and on the budget we agreed on.
Jim Sherrington
BLOG Post
Currently I am building a home that has never been built in our area. It is an ADU house plan design that I came up with that I thought needed to be built in the real world, in today's world. No one is building it anywhere much as far as I know but I believe it it something that addresses a growing niche in America. Learn what an ADU is and why I believe it is far past being a need for the present and certain to be a fixture of the future. Click on picture to left.
9717 East Main Lane, Spokane Valley, Wa 99206
(509) 868-8972



Craig Swanson