Craig
Laura and I really enjoyed working with you on the design of our home. You kept us involved in the process so when it was completed it was exactly as we wanted. Your communication and f0llow through was so appreciated. We would recommend you and your process highly. Thanks for completing it on time and on the budget we agreed on.
Jim Sherrington

"Great company to work with they designed both my new house and airplane hanger; very responsive and easy to work with. Definitely worth every penny."

Cecelio Rodriguez
"Craig is great to work with, he makes it easy since we can do most of the home design through email. He put on paper exactly what we wanted and gave good insight on ways to construct. I would recommend him to anyone that would like to get an affordable custom home plan. I can't wait to see the finished product!"
Tiffany Maple
GETTING STARTED
Call 509-868-8972 or email rock.inn@gmail.com to discuss your project.
CRYSTAL CLEAR VISUALIZATION
You will clearly visualize every aspect of your new home before the plans are drafted.
HIGH TECH COMMUNICATION
Through videos, emailing and other modern conveniences the communication during house plan design and development has become so much easier and less time consuming. In fact, I have never met many of my clients face to face.
Check It Out!
PREPARE AND SAVE TIME AND MONEY
You don't have to have more than a vague idea, but clarity helps.
TIPS TO CREATING A CUSTOM HOME DESIGN
People come to me at all level of preparedness. Most have given it a lot of thought and done hours of research and a surprising number have learned software programs like Punch or Turbo Floor Plan ( I recommend Sketchup).
Read this story on how to work on your own design.
Here is a recent custom home plan drafting example that is a common scenario: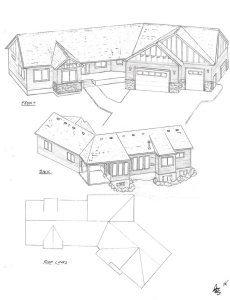 Rob and Amy  had found a lot at Shelly Lake in the Spokane Valley that they wanted to build a custom home on. After scouring the internet, they found a few plans that were close but not quite all that they were looking for and so Rob found me to help them out.
Obviously Rob is talented and he is involved in residential construction and so he came up with some great sketches. In addition to this rendering he provided me with a floor plan that was based on something he had found on the internet. I took these and began building a 3-d model in sketchup. Sending him several videos along the way to get his feedback.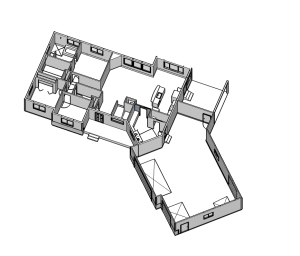 Like most of my clients, Rob was surprised by how many decisions he had to make during the designing phase of the house plan drafting process. By showing him the 3d model I was building through videos that I make of my screen while I am talking and explaining, he was able to visualize what I was discussing and then give me the feedback I needed to move forward and create exactly what they had in mind.
Craig designed my home from a sketched out drawing I gave him. His understanding of the building process and great visualization of what I was requesting transformed my dreams into our wonderful home. His video presentation in 3D really helps to walk you through your home and get a feel for the rooms. I would recommend Craig to anyone building a home, Why pay $ for a pre-designed plan when for nearly the same price you can build what you want?

    Much More than Just Spokane House Plans
My name is Craig Swanson and I have been drafting Spokane house plans for several years. Actually, I do much more than just draft house plans for houses to be built in Spokane. If you have a project in mind, any building project, then you need a set of plans whether it be custom home plans, addition plans, shop plans, tool shed plans or deck plans. I draft plans for all these, and they are all that you need to get estimates, permits and the thing built. And you do not have to live or plan to build in Spokane given our wonderful worldwide web which has enabled me to work with clients living in other parts of the country whom I never had the privilege to meet in person.
One thing I will say is that I believe what sets me apart from other drafting companies is that I have spent many years with my tool bags on learning exactly how to frame these projects that I design as well as how to put in the footings and foundations and install the cabinets and do the painting and tiling.
Each year I  do  the general contracting on  a custom home or two  and maybe a remodel project. All this experience makes me a resource of information on all aspects of the upcoming project that you are searching the web looking for someone to draw up plans for. I can answer many questions about all phases of the building experience from planning to final occupancy permit, as well as provide my list of suppliers and sub-contractors that I have used for years and will treat you as they do me.
Featured House Plans With Bonus Rooms
Featured  One-Level House Plans 
Currently I am building a home that has never been built in our area. It is an ADU house plan design that I came up with that I thought needed to be built in the real world, in today's world. No one is building it anywhere much as far as I know but I believe it it something that addresses a growing niche in America. Learn what an ADU is and why I believe it is far past being a need for the present and certain to be a fixture of the future. Click on picture to left.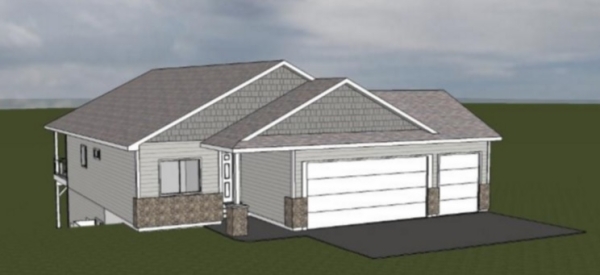 Click here to take a video tour of this new 1280 square foot rancher floorplan that was designed for empty nesters who want this to be their last home where they can enjoy in their daily routines as well as on the special occassions when the entertain gatherings as well as host overnight guests.
11518 East Alki Ave., Spokane Valley, Wa 99206
(509) 868-8972
rock.inn@gmail.com
Craig Swanson
My Thumbtack listing:

Computer-aided Design And Drafting
I have an extensive photo portfolio on my Houzz site